---
About Us
Can-A-Mex Farms breeds and raises their future equine athletes on this unique piece of horse heaven. These future champions are offered for sale in the CTHS annual sale or privately. We invite you to drop by and inspect our horses and facilities.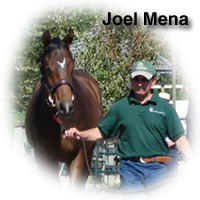 Joel Mena
Joel Mena brings to the table over 25 years experience as a professional jockey. Born in Mexico and raised on the family farm he followed his older brothers to a career at the racetrack.
Joel has spent time on major tracks in Southern California, Washington and Vancouver. He raced along side many of the greats like Laffit Pincay Jr., Bill Shoemaker and Chris McCarron.
Joel holds a trainers license and has a keen eye for developing the young horse.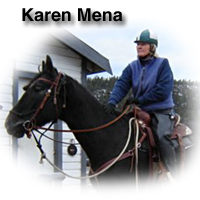 Karen Mena
Karen Mena spent 12 years as a professional exercise rider, up and down the Pacific Northwest. She also worked five years for the Canadian Thoroughbred Horse Society, co-hosting many Thoroughbred sales and banquets.
Karen holds certificates in Equine Kinesiology and Nutritional Therapy for Equines and works closely with an equine health specialist to formulate an overall health program for the equine, always keeping in mind the underlying cause of the unwellness.
Stakes winners Taylor's Deal and Taylor Said, multiple winner Afleet Deal and many more.
---